Marinade:
3 chicken breasts
2 large onions
Half cup of chopped parsley
1/4 teaspoon of saffron
1 teaspoon of turmeric
1 clove
Half teaspoon of cinnamon
1 teaspoon of grated ginger
Half teaspoon of grated nutmeg
Half teaspoon of pepper
Salt to taste
Pastilla:


3 eggs
3,5 ounces of peeled pistachio
3,5 ounces g of sliced ​​almonds
2 ounces of brown raisins
1 pound of phyllo dough
3,5 ounces of melted butter
5 ounces of icing sugar
1 tablespoon of cinnamon
1. Put all the ingredients of the marinade in a baking dish and cook for an hour over low heat.
2. Let the chicken cool, and shred it.
3. Drain the cooking liquid and place it in a bowl with the chicken.
4. Add the almonds, pistachios and raisins.
5. Beat the eggs and add.
6. Mix everything well.
7.In a round bowl, open the phyllo dough, letting excess hang outside the bowl.
8.Paint with melted butter. Repeat this procedure 4 times.
9.Spread the mixture.
10.Close the phyllo dough , painting with butter between layers.
11.Sprinkle icing sugar and cinnamon on top.
12.Bring to a medium oven for 30 minutes.
13.Cut and serve.
Sumario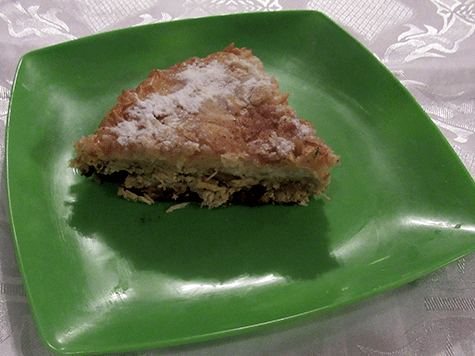 Nombre de la receta
Moroccan chicken pie with filo pastry (pastilla)
Autor
Published On
Tiempo de preparación
Tiempo de cocción
Tiempo total